The newly renovated Baalchand Sugankunwar Chordia building of Rajasthan Youth Association Metro was inaugurated on 2nd January 2022, Sunday and was attended by sponsors of the various facilities along with members of RYA Metro.
The Chairman of the Rajasthan Educational Foundation Shri Shiv Kumar Goenka inaugurated the newly remodelled halls of the building.
The two storeyed building, which is located in T. Nagar, houses the office of Chennai Food Bank. The ground floor has a hall which is the base of all food bank activities including storing and segraggating food grains and a 15 seater board room with all modern meeting facilities including video conferencing. First floor hall is a banquet with a seating capacity of 150 and second floor hall is the dining area with a kitchen facility. All the floors are well connected with a lift.
This event was a perfect occassion to honour all those who contributed towards this noble cause and a proud moment for all the members who sow the seed of the Chennai Food Bank and have seen it grow to its present form.
Giving is not just about making a donation. It is about making a difference.

– ANONYMOUS
Chennai Food Bank Building completely renovated with world class standards
The Managing Trustee of the RYA Metro Madras Trust Shri Kishan Jain took everyone through the history of the Chennai Food Bank of the past 28 years. Chennai Food Bank, while striving towards a hunger free world has thus far distributed 4 crore meals worth of food grains to the needy and the down trodden. It is worth mentioning here that Chennai Food Bank has always been at the forefront in distributing cooked meals whenever a need has arisen.
The chief guest appreciated the services of Chennai Food Bank and conveyed his best wishes for all their future endeavours.
Featured in Rajasthan Patrika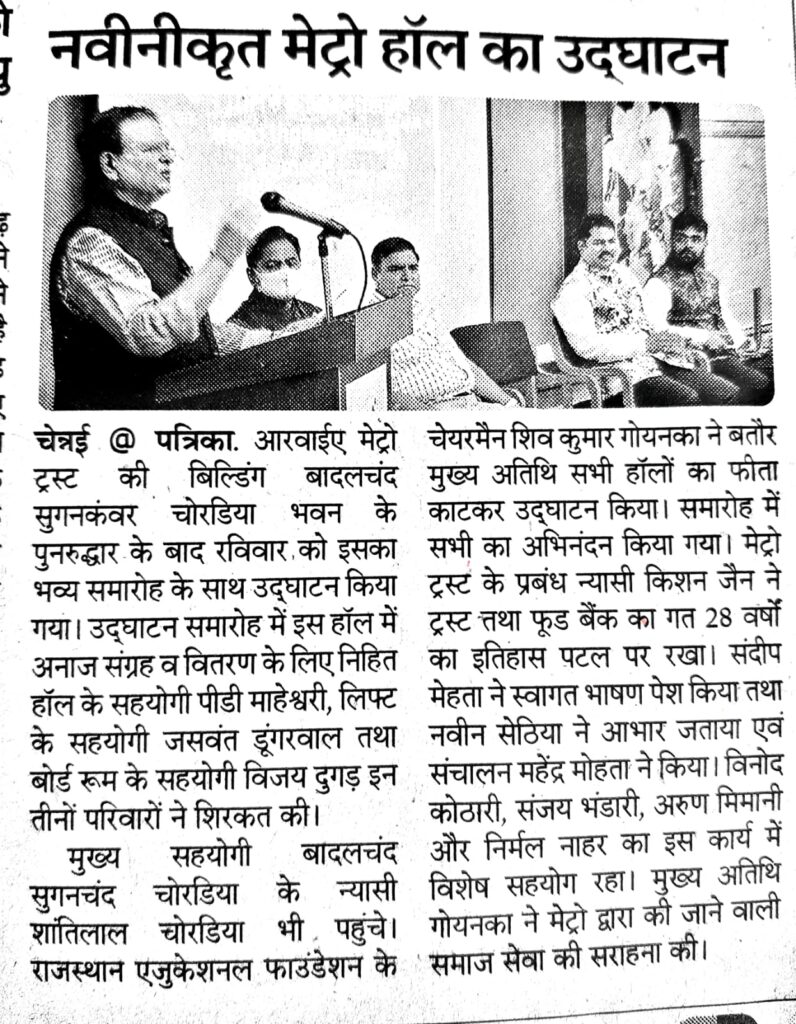 Banquet, Dining Hall, Board Room are available on hire for events and a request for booking can be sent to: [email protected] or +91 44 4212 8153.